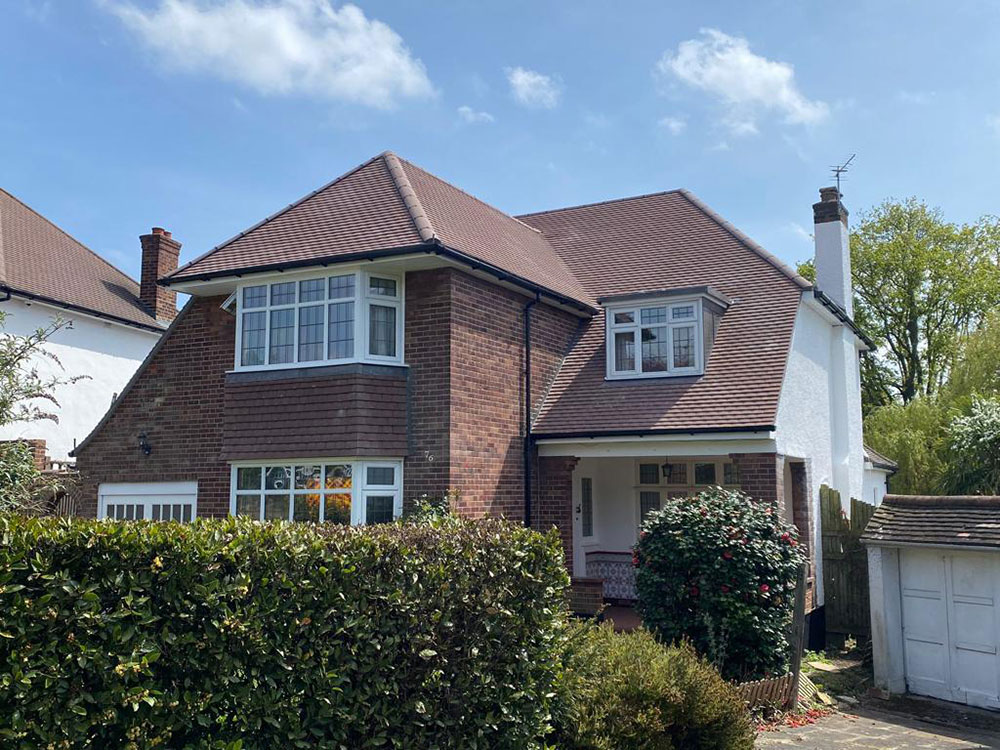 Whether you're a homeowner in search of reputable advice about the roof on your home, or looking to increase your knowledge about roofing for the future of your property, our blog answers all of the questions we hear most…
What types of roofing materials are available?
There are a number of roofing materials available, but of course some will have a higher range of benefits than others. Therefore, the main roofing materials that we would recommend for your home are:
EDPM: a synthetic rubber roofing material commonly used for flat roofs due to its durability and resistance to weather.
Slate roofing: a popular choice for roofing material across the UK due to its level of durability and classic appearance.
Clay tile roofing: a more affordable alternative to clay tiles and are available in a wide range of colours and styles.
Felt: a durable and waterproof roofing material which is commonly used for flat or low-pitched roofs across the UK.
Fibreglass: a lightweight and suitable for various applications which is often used in combination with other roofing materials.
Asphalt shingles: one of the most common roofing materials in the UK due to their cost-effective qualities and range of styles.

How long does the average roof last?

The longevity of your roof depends on various factors. These include the material used, how you care for your roof and its condition, as well as natural elements such as the weather. Take a look at our recent blog to find out what the predicted lifespan of your roof may be.

What are the signs that my roof needs a repair?

Whilst the roof in your property might not be something you think about on a daily basis, it can actually provide you with signs that it is in need of a little TLC. These signs could come in the form of:

Cracked, warped or missing tiles. This can be visible as you lookup at your roof, or even around the surrounds of your home if the tiles have fallen off completely.
Leaks and water stains. These could be visible in your loft or attic area appearing as water stains along the ceiling or walls.
Cracks in your roof. This can be identified by streaks of daylight coming in through the ceiling of your attic or lift area.
Mould growth. This can be visible when looking at your roof if you see a presence of moss or algae on top of your roofing materials.

When should I repair and when should I replace?

The answer to this question will be decided on a case-by-case basis. In the instance where a replacement is recommended, it is likely that this is because it is your most cost-effective option. On certain occasions, several repairs could mend the issue in the short run, but create requirement for an additional repair in the future. A replacement, although costly, will remove the requirement for repair work and provide you with a fresh, damage-free start.

Would my insurance company cover my roof repair?

Dependant on your policy, roof repairs are something which can be covered by your insurance. However, there will be factors that can affect this, such as how the initial damage was caused. It is always best to look into your insurance policy to find out what exactly is covered, but you can also take a look through one of our latest blogs for additional information.

Can I carry out a roofing repair myself?

Roofing repairs are something which should be carried out by a qualified professional. The combination of working at height and using specialised tools provide a level of danger that an expert will have precise knowledge on. If your roof requires repair work, you shouldn't cut the corners. Instead, get in touch with a team of professionals who will be able to provide a clean, effective repair without bringing any risk of danger to you.

At McColloch Roofing, our team of experts hold an unending range of knowledge, and are able to provide well-informed answers to any of the questions you may have. You can contact us by calling 020 8776 1693 or sending an email to mccollochroofing@hotmail.com, and we will get back to you shortly.